ADTO Building Materials Provides One-stop Scaffolding Service for Changsha High-speed Railway West Project
Recently, the comprehensive transportation hub project of Changsha High-speed Railway West Station officially started! Relying on the advanced nature of the product itself and ADTO's comprehensive advantages in direct factory supply, product quality, price, delivery capacity, service, etc., ADTO disc scaffolding products have been officially used in the Changsha High-speed Railway West Station project!
Changsha West High-speed Railway Station is located at the intersection of Chang-Yi-Chang High-speed Railway and Chang-Gan High-speed Railway. The terminal station of the west extension of the Zhutan Intercity Railway is also an important node station of the railway hub of the Changsha-Zhutan Urban Group. It is planned to introduce the Chang-Zhu-Tan Intercity, Chongqing-Changsha, Beijing-Guangzhou double line, Changsha-Xi'an high-speed rail, Chang-Kowloon high-speed rail, etc., and will become an important external transportation hub of the state-level Hunan Xiangjiang New District in the future.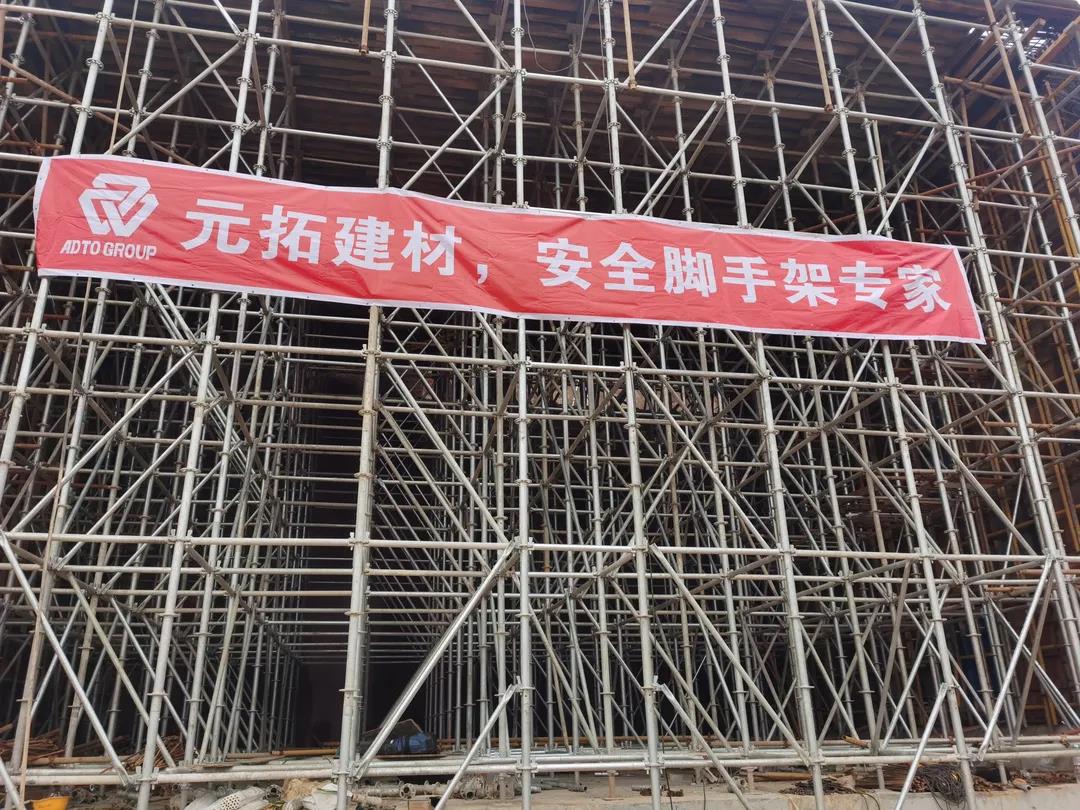 The Changsha West High-speed Railway Station Integrated Transportation Hub project has a total investment of 3.3 billion yuan and is expected to be put into use in 2025. ADTO is now continuously supplying products according to the progress of the project, providing a one-stop service of scaffolding products for engineering projects.
ADTO Building Materials Group has nearly 300 sets of various advanced manufacturing and processing equipment, with an annual production capacity of 60,000 tons of steel springboards, and an annual production capacity of 150,000 tons of scaffolding. The new scaffolding produced is made of high-quality steel throughout the body, using fully automatic electronic control digital welding equipment, and the finished product adopts hot-dip galvanizing anti-corrosion treatment technology, strictly in accordance with ISO quality management system standards. Advanced equipment, perfect technology, and scientific management have laid a solid quality foundation for our products. Our company also has more than 30 strategic cooperation factories, and the annual production capacity of scaffolding exceeds 100,000 tons per house.
Honor witnesses its strength. ADTO Building Materials Group has been awarded as "China Formwork Scaffolding Special Qualification Enterprise", "National Formwork Scaffolding Excellent Enterprise", "Alibaba Billionaire Online Merchant Award", "Top 10 Private Enterprises Import and Export Industry in Hunan Province", etc. Honor, and passed dozens of authoritative certifications such as ISO9001 quality system, European CE, Australian AS/NZS, European Union EN131, Japanese JIS certification, Swedish RISE, etc. It is the designated supplier of world-renowned petrochemicals construction companies such as China Petroleum and Sinopec. Long-term strategic partners of outstanding engineering construction companies from all over the world, and the products sell well in more than 100 countries and regions around the world, including Europe, America, Oceania, the Middle East, Asia, and Africa.
ADTO has been in the field of engineering equipment and materials for more than 20 years, serving more than 60,000 global customers, providing project guarantees for more than 2,600 engineers and builders worldwide, and has accumulated more than 10,000 service projects, with rich industry experience.
Related News