Product Description
Adto stair treads are safe, self-cleaning, skid-resistant and economical. Steel and aluminum stair treads are available in a variety of styles: welded, riveted, press-locked, swage-locked and Duo-Grip extruded aluminum.
Stair treads are the most widely used for their strength and ease of installation and are universally used in most industrial and commercial applications. Riveted steel stair treads have a greater load carrying capacity for the same span and depth of bearing bar and greater walking comfort. Both can be ordered with a serrated surface for additional safety.
Aluminum stair treads, due to their light weight, high strength, corrosion resistance, rust proof and non-sparking properties, are ideally suited for corrosive environments, food preparation and storage areas, and volatile areas.
Swage-locked I-bar stair treads offer you high strength at less weight and lower cost. Rectangular bar, press-locked or swage-locked, stair treads provide a higher strength and stiffness-to-weight ratio and are available with a serrated surface when additional safety is required. Our Duo-Grip plank stair treads give you an exceptional strength and stiffness-to-weight ratio.
All stair treads are custom fabricated to meet the size, width and length specifications of a particular job. In addition, standard end plates can be custom fabricated to meet special bolt hole size or location requirements.
Both steel and aluminum nosings are available to add strength at the point of greatest impact and provide a definitive visible edge for extra safety. Choose our checkered plate nosing for normal use. For additional safety, choose our cast iron or aluminum abrasive nosings or our corrugated aluminum nosings, or dimple nosing available in carbon stainless or aluminum.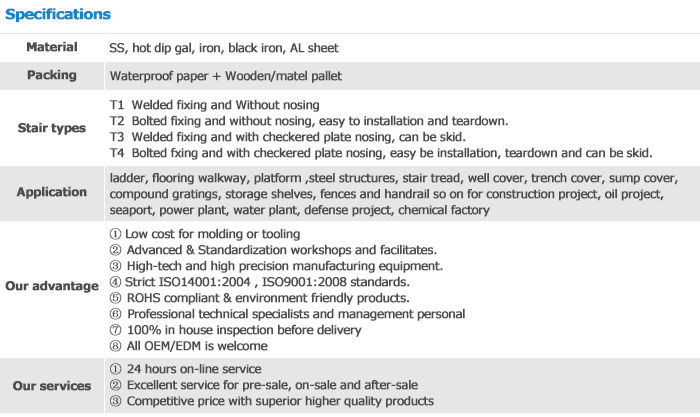 FAQ
1. What is the span of an area as it relates to bar grating dimensions?
The span is the distance between two points of grating support and is actually referred to as the length of the grating. This is also the direction of the bearing bars.
2. What is pressure locked grating?
Pressure-locked means bearing bars are locked in position by cross bar deformation instead of welding or riveted.
3. Does the band at the end of a grating panel help support the load?
Trim band carries no load and is used to improve the appearance of the product. Welding is done every 5" at the end of the panel. Banding can in fact help carry the load if welded at every bearing bar and is especially recommended for heavy duty grating.
4. How is the length and width of an area determined when quoting bar grating?
The length is the actual span of the opening (this is the direction of the bearing bars) and is multiplied by the lineal feet or "run" of the opening to calculate the overall square footage.
5. Does a shop coat of black paint protect bar grating from rusting?
Steel grating dipped in black paint only protects the product against rusting during shipping and installation. A galvanized process is required to permanently protect the grating during its life cycle.